Guide: Reporting to the Royal Commission on Sexual Abuse
The Network for Survivors of Abuse in Faith-based Institutions has published a guide for survivors who want to report to the Royal Commission. 
On this page you will find content such as poems and stories from those who have become a part of Male Support Services Waikato. We thank you for generously sharing your moments with us. 
Police have produced a series of videos for victims of sexual assault that outlines what is involved in reporting a sexual assault to them. We collaborated with various support agencies in creating these videos and our goal is that they become a useful resource, are widely shared and of course reach victims and others who can benefit most from this information. 
Please click the above link to view a comprehensive book list which will hopefully cover an area specific to your need. We have most of the books in our Library and are more than happy to lend these books to clients if required, just contact us. (Big Thanks to Angie who put the hours in compiling the books and references to make it easy for you) 
"You can recognize survivors of abuse by their courage. When silence is so very inviting, they step forward and share their truth so others know they aren't alone."
- Jeanne McElvaney
10 min Excerpts
Boys and Men Healing
This is an interesting clip which includes two of the world's experts in research on Male Sexual Abuse. 
Sexual abuse & violence is a human rights issue, not a gender issue 
Ken Clearwater presents a TEDx talk about why sexual abuse and violence is not a gender issue. 
Social Experiment - Gendered reactions to abuse
Lodging sexual assault claims with the police
The website has sections on:
Sexual assault and consent
Effects of sexual assault
What can I do if I have been sexually assaulted
Myths and facts
Effects of sexual assault
Victims' rights
Useful links
Safety advice
Feedback
The site provides a single place where members of the public can find out information on how to report a sexual assault and where to get specialist support.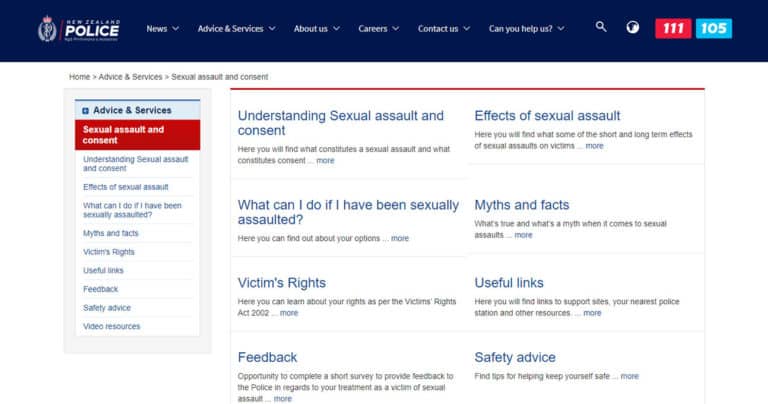 A key aspect of the website is the 'Feedback' section where victims of sexual assault can complete a short survey to provide feedback to Police on specific areas of the investigation, from how they were treated when they first spoke to Police, through to the ongoing investigation and the final result.
Victims are also able to provide feedback on the support and communication that they were provided with throughout their dealings with Police. The survey may be completed anonymously.
The Police would appreciate you completing the survey, even if you choose not to engage with police, as responses will be collated and evaluated and used to continually improve their services to victims.
In this guide, we'll explore the common sleep disorders associated with addiction, the cyclical relationship between addiction and sleep, and suggested resources and strategies for managing sleep during recovery. 
Domestic Violence and Substance Abuse
Certainly not everyone who is addicted to drugs or alcohol is abusive (whether physically, mentally, or both) towards his or her partner. Likewise, not every domestic violence abuser has an issue with substance abuse or misuse. However, statistics tell us that, far too often, the two do go hand in hand. 

USA research on the sexual assault of Men
An interesting link re lastest research out of the USA. (Percentage of Males sexually abused and female perpetrators)
Note: This will take you to an advert with a count down. When the count down is finished it will redirect you to the article.
Men who were sexually abused by women tell their stories
Aaron Gilmore was not even a teenager when he was sexually abused by a family friend who he regarded as a second mother.
But when he reported it to police years later they told him they couldn't see what crime had taken place.
PTSD and Substance Use Disorders
Studies show that about 14% to 43% of children go through at least one trauma. Of those children and teens who have had a trauma, 3% to 15% of girls and 1% to 6% of boys develop PTSD.
Our organization works to spread awareness of this issue and to be an informational resource for those impacted by alcohol and drug dependence.
According to dominant stereotypes, men can't be sexually assaulted by women.
But according to a new, wide-ranging study, around two-thirds of men who report sexual victimization say their assailant was female.
Steven Blum Nov 29 2016 4:45 PM
Stuff News - Man abused as a teen speaks out
A man abused as a teen, shares his story of freedom whilst the abuser goes to jail. 
The Understudied Female Sexual Predator
According to new research, sexual victimization by women is more common than gender stereotypes would suggest.
There are 24 Community Law Centres throughout Aotearoa New Zealand, and they send lawyers to over 120 outreach locations.
They're in big cities and tiny towns, from the West Coast to Waitematā.
Community Law hold free advice clinics, find more information at their website communitylaw.org.nz
The goal at Drug Dangers is to keep the public educated and informed of all defective medical devices and dangerous medications that are currently on the market.
As an online resource sponsored by Seeger Weiss LLP, Drug Dangers strives to provide accurate, relevant medical information all in one place. Under the unfortunate circumstance that you or a loved one has been injured by faulty medications or devices, the attorneys of Seeger Weiss are committed to helping you receive the justice you deserve.
thelighthouseproject.co.nz - The PORN conversation
Porn is a powerful teacher, so we thought it's time to start talking about it with our young people and asking some questions.
Questions like …
– What is porn teaching us about sex?
– Is porn a good sex educator?
– Can watching porn change how we think and behave?
An Australian site with amazing downloads and resources. 
Male Support Services Waikato
American site and lots of good information and support. 
New Zealand Male Survivors (Go Ken). 
You, Me, Us is all about queer, trans* and takatapui people, having healthy relationships with each other, and what we can do when things go wrong. 
Initiated and launched in Wellington, New Zealand, this ground-breaking multi-media campaign is a collaborative effort from Tū Pakari Ora – Sexual Assault Assessment and Treatment Services, Sexual Abuse Prevention Network, Wellington Sexual Health, Sexual Abuse HELP Foundation, Radio Network Wellington, Hutt Rape Counselling Network, Wellington Police, Doctors for Sexual Abuse Care and Regional Public Health.
Finding a place to live long-term can seem like a daunting task, but with the right information you can move forward with confidence. Here's how to navigate the path that leads to a home of your own.
Hindman (2001) Polygraph testing leads to better understanding of adult and youth sex offenders
Outstanding research on the use of polygraphic testing on perpetrators of abuse, showing that there is no causal relationship between being abused and becoming an abuser. 
Discussion on the Kiss of the Vampire myth (downloads as a Word document)
Domestic Violence Services for Men 2015
A PDF containing information for services available in 2015. PDF supplied by Western Sydney Mens and Relationship Services Network.
The Court Process Diagram (NEW)

A easy to follow flow chart of the court process following sexual assault.
The Bristecone Project News Letter.
Business Cards-Victims Information
A business with key information for people affected by sexual violence
NAASCA - New Zealand Listing
Far too many adults still experience the pain and trauma of childhood abuse. They're keeping the secret and feeling alone. NAASCA has developed a comprehensive and easy-to-use list of all the recovery groups and services we can find across the English speaking GLOBE.
Home site: www.naasca.org
MyAdvice.Legal is an online marketplace where registered clients type in their legal problems for registered lawyers with relevant expertise and experience to bid for their instructions.
MyAdvice.Legal is not a law firm and does not give legal advice.